PPC best practices including audience segmentation and targeting keyword selection, and data-driven optimization, have been around for a long time. Because platforms change, companies develop, and customer habits change, the techniques we use to practise them are often not.
This year or so we've seen many challenges from Google, Amazon, and Facebook in the name of automating privacy and pandemic prevention.
In order to help you meet the many issues we face today, I'm going to share with you seven PPC tactics you may implement right away.
7 PPC Ideas to Beat the Competition
Use Facebook Messenger ads to generate leads with chatbots.
It's also possible to avoid the usage of conversion events and pixels entirely by utilising Facebook campaign objectives that don't deliver users to your site, such as leads and messages (mentioned below).
Using the current iteration of the message's goal saves you time and effort by eliminating the need for a conversion event. If you'd like, you can make it a conversational lead ad specific.
In order to do so, below are the instructions: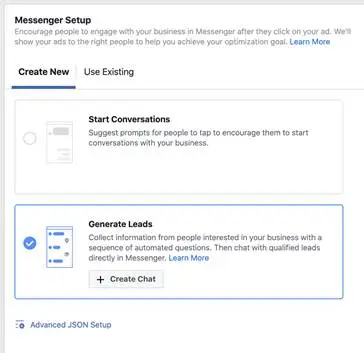 Go through the usual campaign set-up after you've chosen an objective for your message (media type, primary text, headline, etc.) Then select "Generate Leads – Messenger Only" from the Message Template drop-down menu.
Create a conditional conversation sequence by clicking the Create button and filling out the form.
Direct response ads often fail to pique the interest of consumers who would otherwise be swayed by a more conversational approach to data collection. A more original approach that may be attractive to jaded viewers.
Visit this page for helps on this PPC approach.
Enhance your B2B buyer personas by using LinkedIn's website demographic data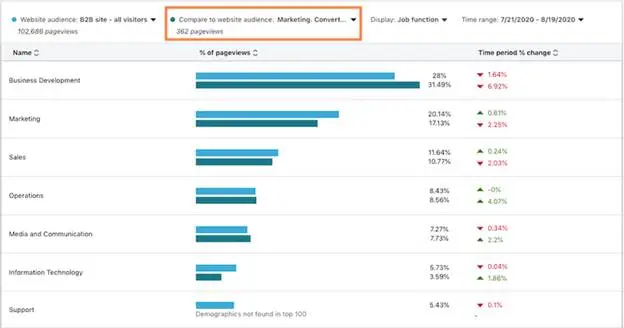 There is still a lack of interest in this tool, even though it was released in 2017. It allows you to collect your own first-party intent data for B2B PPC.
You can put it to good use in the following ways:
Segment LinkedIn ad clicks by job function to better target your LinkedIn marketing efforts. Using this data, you can then measure conversions based on function. If, for example, you receive a lot of traffic from BDRs but none of it converts, you can either change your offer or exclude BDRs from your LinkedIn audiences or Microsoft Ads profile targeting in this way.
Analyze performance in relation to the size of the company. It's possible to incorporate a starting price in your ad copy if you get a lot of traffic from tiny firms that can't afford your services.
Sort your material according to seniority to find the most effective forms of B2B marketing.
Prospects with a lower degree of seniority may be more interested in high-level highlights and educational information, while those with a greater level of seniority may be more interested in content centred on leadership or ROI.
Finding placement choices on speciality sites that your top customers frequent is easy with this information about your audience.
Promoting Your Twitter Presence
You may not be getting the most out of your company's Twitter account.
Using your website and social media accounts to promote your Twitter account is a good place to begin.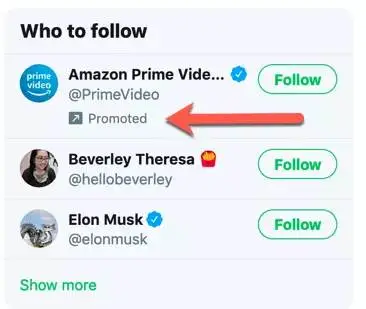 A "followers" campaign on Twitter Ads can also help you increase your following. Take advantage of targeted demographics and audiences while promoting your account on social media.
Users-specific lists (emails or @handles), retargeting, behavioural targeting, keywords, and many more choices are available with personalised audiences.
You'll be charged for each new follower you get through this type of campaign. However, Twitter will propose a bid range based on their calculations of what will get you the most exposure.
There are a variety of ways to test Twitter campaigns, including engagement, video, website traffic, and app downloads, among others. Look around and see if you can find a marketing strategy that matches your other efforts.
Search Custom Intent Audiences
By developing a custom intent audience, you may focus your efforts on a specific group of people on the Google Display Network.
Google Ads Custom Intent Audiences
Try new things and come up with creative ways to promote your brand online.
Ad group-level targeting is where you define in-market audience demographics and keywords as well as subjects and placements.
Negative keywords can also be used to eliminate specific places. If you believe it is suitable, you may wish to exclude video games from this list.
Search Ads Remarketing Lists (RLSA)
RLSA is a means to get in front of Google's searchers while they're on your website.
Remarketing Lists for Search Ads – Google Best Practices for AdWords
A bid modifier can help you make your business more visible to those who are already aware of your products or services by adding it to preexisting keyword search campaigns.
Instead of using display advertisements for retargeting, focus on search engine text ad campaigns.
Ad Customizer Countdown Timer
Google Ads can now display a countdown timer with the help of this ad customizer.
You may use it to make your adverts more noticeable while also conveying a sense of urgency to your call-to-action.
Any campaign can benefit from the usage of this simple yet powerful tool.
Any text ad can have a countdown component added to it, and as the event date approaches, the number of days, hours, and minutes will decrease.
➔ Sales events
➔ Spectacular openings
➔ Launch of a new product
➔ Published a new piece of content/blog post
➔ Twitter conversations in real time
➔ Webinars/Streaming video
➔ Publicity releases
Increases in the Cost of Goods
Price extensions, which can be seen in Microsoft Ads and Google Ads, display a product's or service's unit price alongside the advertisement.

Promoting products and services that don't fit into the typical eCommerce model is possible with this method. With the price qualifier and the choice of "from," "up to," or "average," chances can be more easily tailored to meet individual needs.
Packages starting at $100 or $29.90 a month are examples of businesses that can be advertised like this: service companies, insurance companies and wedding planners are all examples of this type of business.
Adopt these 7 PPC methods for 2022 and stay on top of the latest trends
To recap, these methods and the tools to implement them have been around for a time now. Since PPC is moving toward privacy-first, they're resurfacing (and by the looks of it, heavily automated).
MediaOne PPC services are available if you're in need of PPC management.
Read: Frequently Asked Questions before Hiring a PPC Services Provider
When you hire a marketing agency, you're getting more than just ad creation left to Google's artificial intelligence (AI). To stand out from your competitors, you need to conduct high-quality research and learn about your customers. Increasing clicks, traffic, engagement, and conversions are the goals.
Read: 9 Secrets about PPC Management Only a Handful of People Know