Even before Dynamics 365 was launched, Microsoft had its own line of business solution programs that gave way to the development of businesses and organizations. One of such ERP solution was the Microsoft Dynamics AX which took care of most of the business processes such as sales, manufacture, project management, customer relationship, etc. With the integration of ERP and CRM, Microsoft rebranded the program and named it, Microsoft Dynamics 365 for Operation and Finance. Here we are going to be talking about the same application and its features.
An overview of Dynamics 365 for Operation and Finance
With Microsoft Dynamics 365 for Financials and Operations, you get cutting-edge machine learning abilities which promote your business and help it grow. It supports a personalized experience and supply chain execution with the help of built-in intelligence. As it has seamlessly integrated with customer relationship management apps and office 365, it facilitates the business processes, making them less time consuming and efficient. Another aspect that takes Dynamics 365 for Finance and operation another step further is their collaboration with Power BI. Its embedment as a native business intelligence provides for the visibility of programs across the entire company or organization.
What are the capabilities Dynamics 365 for Finance and Operation?
1. Interconnected Operations
• Microsoft Dynamics 365 for Operation helps you to develop a unified and compact platform wherein you can support various processes across the entire supply chain or that of your choice.
• The program provides for efficient and fast logistic and warehouse management. Therefore the timeliness of the delivery of products is always managed and facilitated.
• The production process largely depends on the identification of issues and fixing of any problem that might arise. This is taken care of to a great extent by Microsoft Dynamics for Operation as it comes with the advantage of predictive and real-time analytics.
2. Modernized Platform
• Microsoft Dynamics 365 for Financial and operation has the capability to analyze system performance and usage. With advances telemetry and diagnostics, you can detect issues much faster and streamline any business process you want.
• The browser-based UI that is used by Microsoft Dynamics 365 for Finance and operation is both user-friendly and smart. It is clean, compact and intuitive, which lets you make smart decisions with business logic anytime, anywhere.
• This application helps you save money, time and risk and provides end-to-end application management.
3. Consolidated Processes
• Microsoft Dynamics 365 for Financials helps to minimize the operational costs by integrating logistics across multiple sites. It also integrates the data across warehouse and transportation platforms.
• It also allows you to streamline processes from purchasing to delivery by automated procure-to-pay and order-to-cash mechanisms.
• The application provides for the automation of financial processes, budget planning, three-way matching, and budget control. Thereby reducing operational costs across business platforms.
4. Customizable Platform
• Microsoft Dynamics 365 for Financial and Operation comes with flexible tools and no-code visual editors. Thus, you can modify the application as per your changing business' needs.
• The entire program also facilitates the process of international operations and global infrastructure by cutting down on cost and complexity. With Microsoft's secured cloud that provides state-of-art security, there is no risk of malfunctioning.
• Dynamics 365 for Operations comes with round-the-clock tech support and built-in disaster control. This protects the data and manages the workload, reducing the chances of mix-up or data loss. The plus point being, you can save on the additional cost of data centers.
5. Improve your financial performance
6. Connect and optimize global manufacturing
7. Simplify regulatory services configuration
8. Streamline your supply chain
9. Integrated, Flexible and Scalable Solutions
10.Optimize workforce productivity
11.Reduce operational costs
12.pre-built solutions on AppSource
13.CLOUD SERVICES
14.WORKSPACES
15.Stay connected Mobile app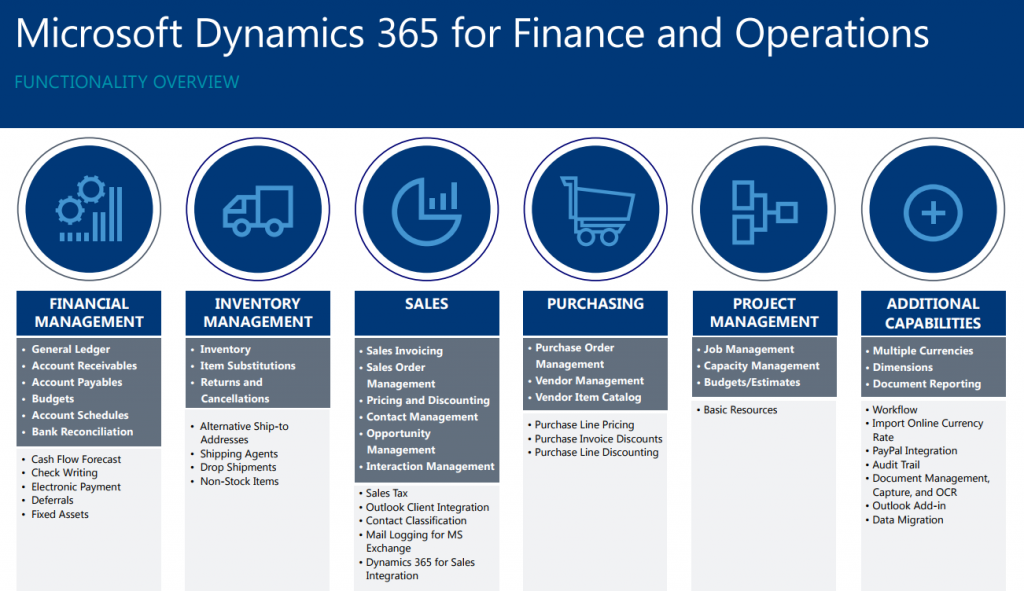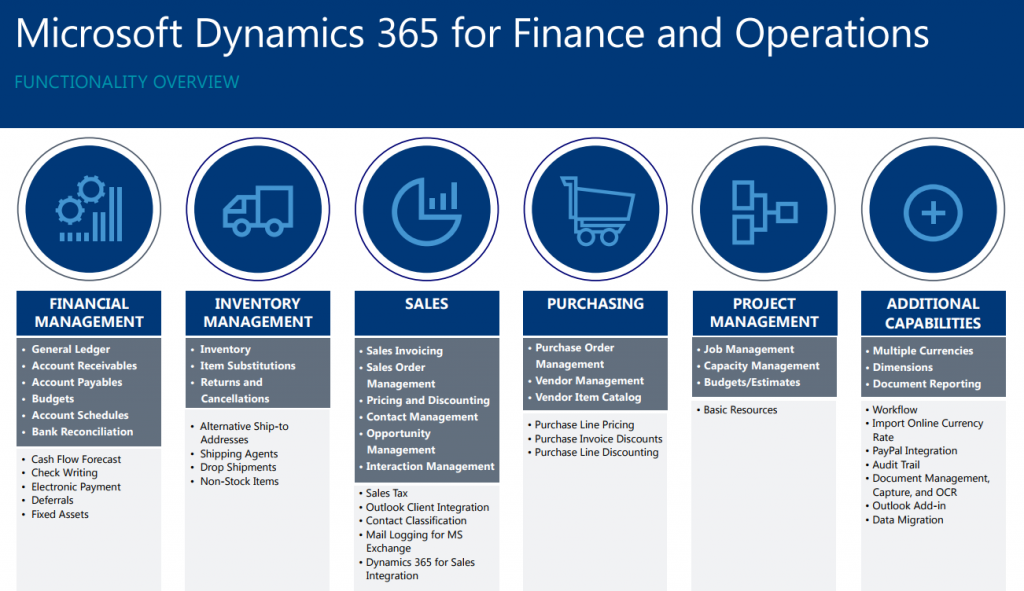 What are the deployment options for Dynamics 365 for Finance and Operations?
You can deploy Dynamics 365 for Operations and Finance in three different set-ups depending on your convenience. They are:
On-premises: with data storage and local transactions, you can run your business processes through on-premise. For this, you do not need to replicate any business data to the Microsoft Cloud. You can control the transfer of data by turning on or turning off cloud synchronization.
Cloud: with cloud one can enjoy the full power of Microsoft Azure Cloud with the intelligent analytics and machine learning of Power BI.
Cloud edge: cloud edge combines local application services and locally stored business data with cloud node. The cloud connection ensures a unified view of the entire business.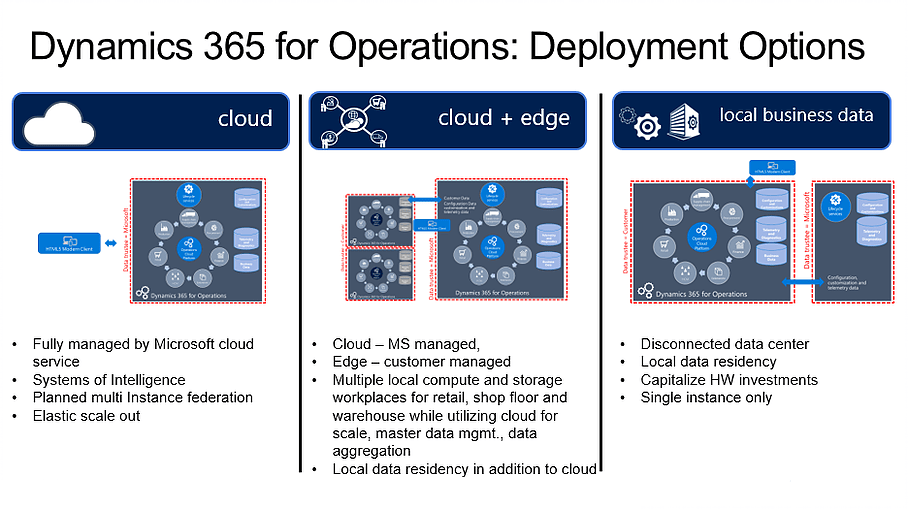 Licensing
Dynamics 365 for Finance and Operations is available as part of the Unified Operations Plan, which also includes Dynamics 365 for Talent, Dynamics 365 for Retail, and Microsoft PowerApps.