Windows operating system has inbuilt features to connect with people using Mic and webcam. There are a few apps that go hand in hand with Windows operating system updates. There are rare fails with Skype as Skype is again a Microsoft product and all the updates are rolled out for better compatibility. Discord is again a social media platform to talk, hang out, and connect on video calls. If you are unable to use Discord for voice calls, video calls, and other voice messages, this article is for you!
Logitech Mic not working on Discord on Windows 10 is a common issue observed by a lot of users. Logitech had these issues with other devices and our tips and tricks worked best to update the Logitech mouse driver and fix Logitech mouse issues. If the Discord Mic is not working, these tips and tricks can help you diagnose the issue and fix any conflicts with Mic compatibility with Discord.
How to Fix Logitech Mic Not Working on Discord?
Check Mic on Different App
Let us start with linear and logical troubleshooting to identify if the problem is only with Discord or all other apps that use Mic. Try using other apps like Skype, Google Hangout, Zoom or any other app that uses Mic and check if you are able to use the Mic. If the problem is just with the Discord app, we will have a different troubleshooting plan else we will troubleshoot the Mic settings.
Check Discord Mic Access
You can check Windows settings to check if Discord has proper Mic access. Here is how you can check and enable Mic and fix Discord Mic not working on Windows 11.
Step 1. Press the Window key and select Settings.
Step 2. Select Privacy & Security on the left and ensure Microphone access for apps is turned ON.
Step 3. Toggle ON the 'Let Apps Access Your Microphone' is turned ON.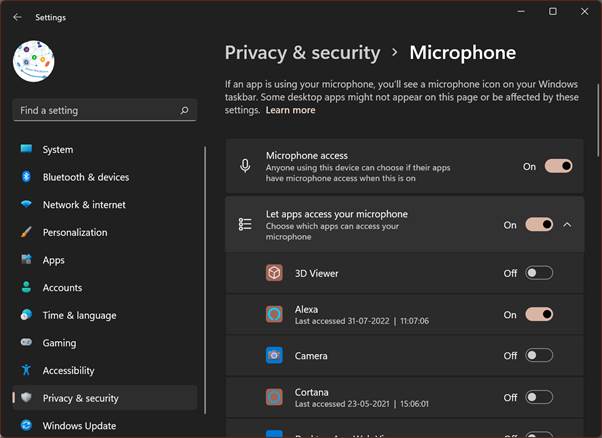 Step 4. Scroll down the list and select the Discord app. Toggle ON the Microphone access for Discord if it was turned Off.
Step 5. Restart the app and check if you were able to fix it.
Test Microphone Settings
If the Mic permissions were already turned ON, you should check the Mic settings if it is configured properly. You can check this in the Settings panel.
Step 1. Press the Window key and select Settings.
Step 2. Click on Systems in the left side panel and select the Sound section on the right.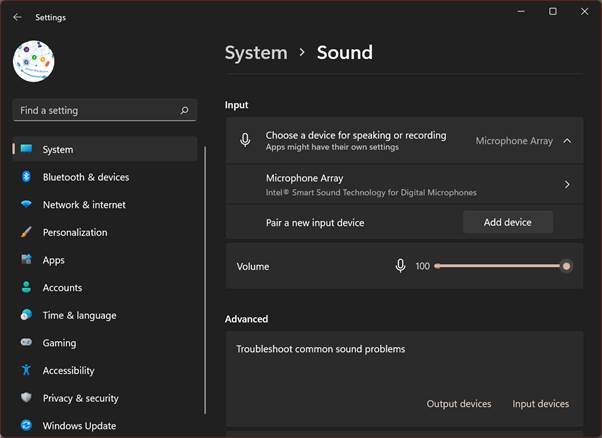 Step 3. Scroll down to the Input section and choose a device for speaking and recording.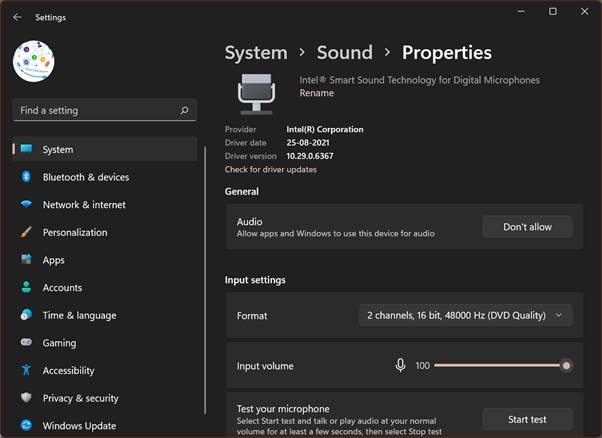 Step 4. Select Microphone Array and select the Mic that you wish to use. Get into the Properties and ensure you allow apps and Windows to use this device. Raise the input volume bar to the max and click on the Start Test button to test the Mic settings.
Step 5. Close the settings page if everything is configured perfectly and check if you got lucky.
Reset Voice Settings on Discord
There are possibilities that you may have messed up Discord settings. You can reset Discord voice settings and get them back to default.
Step 1. Access the Discord app and get into Settings.
Step 2. Click on the Voice & Video tab on the left and scroll down to the bottom.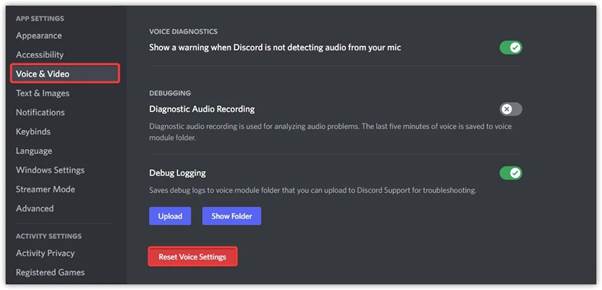 Step 3. Click on the Reset Voice Settings button at the bottom to reset the settings.
Step 4. Restart the computer and check if the Discord Mic not working issue is fixed.
Install Windows Updates
If you are using outdated Windows, you can install the latest Windows Updates on your PC manually. If there is a patch, bug fix or device setting required to fix the issue, Windows Update will install the patch and fix it. You just need to download and install all the latest updates.
Step 1. Press the Windows key and click on the Settings option.
Step 2. Click on the Windows Update button on the System tab on the left.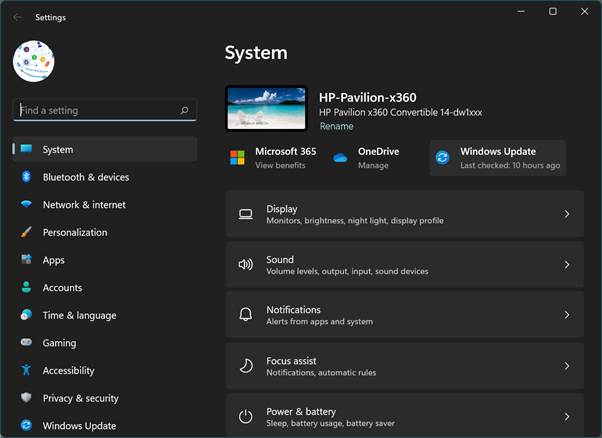 Step 3. Download and install all the advised updates and restart your PC to finish the installation.
Use Driver Updater Software
There can be several issues with different devices if there is a driver conflict. You may face issues with device drivers if they are missing, corrupt, incompatible or outdated. You may not be able to regularly update the Logitech mouse driver, or update the sound driver, printer, display, USB, and other device drivers in a timely manner. The best driver updater tool can help you fix all the driver-related issues just with a few clicks.
Advanced Driver Updater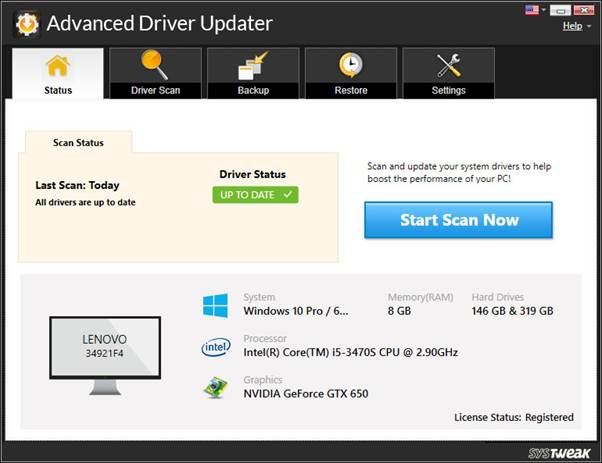 Advanced Driver Updater has one of the greatest algorithms to scan and list out corrupt, faulty, incompatible, missing, and outdated device drivers. If all the settings are perfect on your PC, it must be a driver conflict or a hardware issue. Let's first ensure that all the drivers are up to date on your PC.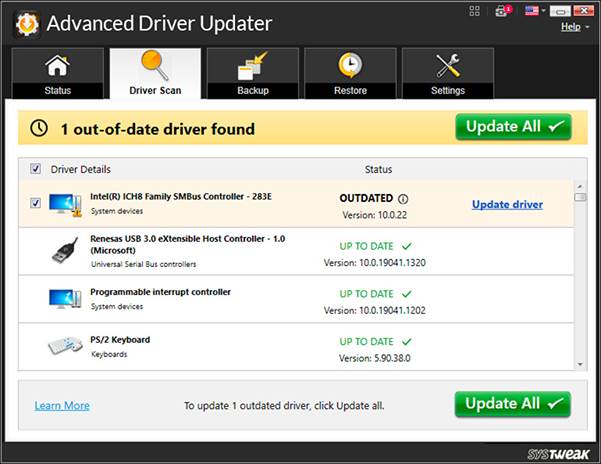 You just need to download and install Advanced Driver Updater on your PC and initiate a scan. It will scan all the devices that can be installed on a Windows PC and list out if there is any outdated device driver. It has a large pool of the latest updated device drivers directly from the OEM to look for suggested updates. You can select one or all updates and click to update all drivers in one go. Restart your PC and check if the sound driver issue is resolved.
Final Words
Discord app is one of the popular apps to connect to the social network. If the app is not able to connect properly or the Discord Mic is not working, you can troubleshoot the issue with the above-suggested steps. These steps are good enough to fix Mic not working on Discord on Windows 10 or 11. If there is a driver conflict, Advanced Driver Updater can help you resolve all the driver conflicts on your PC. Keep it updated and get the best computing experience!