Few programming languages will open more doors for you in the working field. Nowadays it is possible to learn to program completely free online using mobile apps. In the past, it is very hard to learn a programming language and for that, you have to spend hours and it is much expensive. But this is not the case these days. Now it becomes very easy to learn programming language.
Even if you don't intend to get involved in the field of development, learning a programming language can be very beneficial:
• It will help you better manage websites.
• It will reduce dependence on an external developer for your own projects.
• It will give you the freedom to create applications, websites and other projects with ease.
For this, there are many courses and resources, but if you are curious and you want to start testing at your own pace and with flexibility, a mobile application is the best option. At any time and place, from the bus to the supermarket queue, you can open one of these applications and start learning the language you want, from Python to HTML, through JavaScript, CSS and lots of other. There are many mobile apps available on Google store & Apple store for Android and IOS, which help to learn programming languages easily. Below are top 10 free mobile apps to learn programming languages
List of Top-Rated 10 Free Mobile Apps to Learn Programming Languages From
1. SoloLearn-Learn to Code for Free!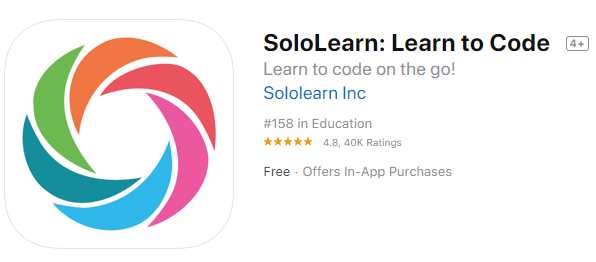 They claim to have the largest collection of free programming courses, of all levels, and the truth is that so far it has not disappointed. SoloLearn makes the learning of programming language a fun.
Features of SoloLearn
• Fresh Free Content Daily, 24*7 Support, Free Mobile Code editor
• The topics are varied and include both basic principles and more advanced courses, with a certain resemblance to the Duolingo learning style.
• One of its highlights is the forum part, were to talk with other students about each of the exercises and lessons.
• SoloLearn includes a section of challenges that can make you additional experience points. It's about having a competition with another student.
• You choose and answering test questions that help you strengthen your knowledge while enjoying the competitive component.
Installs: 5M
Impressed by this app's features? To get such the best Mobile app development, start seeking a reliable professional right away.
Download From Play Store Download Apple App Store
2. Encode AKA knowin for IOS

One of the best options is Encode if you start from scratch and don't know anything about programming. It contains very short and simple lessons, from general and transversal concepts to all programming languages although their classes are reduced to three languages: Python, JavaScript and Web (HTML and CSS).
Features of Encode
• The idea of Encode is that you learn to program and for that, it includes many practical exercises with its own console for you to enter your code. Thus, in an efficient and direct way, you begin to know some basic terms for each of the languages.
• Some of the Encode lessons are blocked because they are paid, with prices around five Euros.
Installs: 100K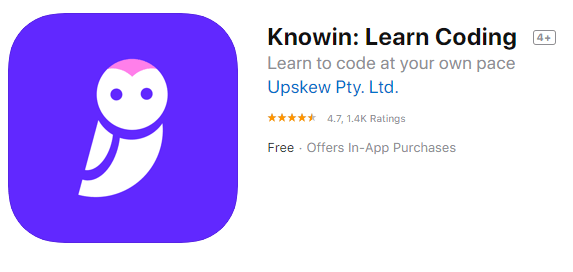 Download From Play Store Download Apple App Store
3. Mimo: Learn to Code-HTML, CSS, JavaScript

When you download the Mimo application, the first thing they ask you is: "What do you want to achieve?" The options are four different paths: developing an iOS application, creating a web page, being a hacker or making a game. Later you can change your goal and even explore other more specific themes.
Features:
• From here, it's about learning by having fun.
• Coding for beginners and advanced coders
• Mimo proposes a very interactive way to learn code, step by step and with a nice and colorful design.
• Ideal for beginners and people who need a little push beyond their initial interest.
• The Android version is not yet available, but on their website, they point out that it will not take long to arrive.
Installs: 1M
Download From Play Store Download Apple App Store
4. Programming Hub

Google experts have helped develop Programming Hub curricula expressly designed so that learning to write code is neither complex nor boring.
Features of Programming Hub app
• Test questions with multiple answers, simple explanations and an immense repository of lessons where you will find Java, C ++, C, HTML, JavaScript, Python 2, Python 3, CSS … Includes introductory courses but also more advanced, in case you arrive with clear fundamentals.
• Without needing any other application, Programming Hub allows you to test your code in your own mobile compiler, once you have mastered some basic principles.
• The Pro version includes unlimited access to all courses, removes ads and extra tools, such as infinite compilations.
• Programming & Coding Examples: 5000+ programs in 20+ programming languages & Compiler.
• Offline Mode to get programming courses online
Installs: 1M
Download From Play Store Download Apple App Store
5. Codenza

Codenza is indeed the most formal app on the list. It is more focused on the student who follows regulated studies and who is taking it seriously. More than an interactive application was to learn by testing, it is a manual that includes references to a wide variety of programming languages. A kind of dictionary was to consult your most advanced questions.
Features:
• Although by itself it is not a great tool to learn, Codenza is a perfect complement for all those who have a knowledge base.
• Whether to review your concepts about any language, introduce yourself into new programming languages or review ideas, Codenza is the faithful companion of any initiate in code.
• Languages in the free version: C, C++, Java, Data Structures in C, C++ & Java, Algorithms in C, C++ & Java, Computer Graphics in C, C++ & Java, PHP, Python, C#, Perl, JavaScript, CSS, HTML, Ruby, ASP.
• Concepts covered in different languages
Installs: 100K
Download From Play Store Not Available
6. Codemurai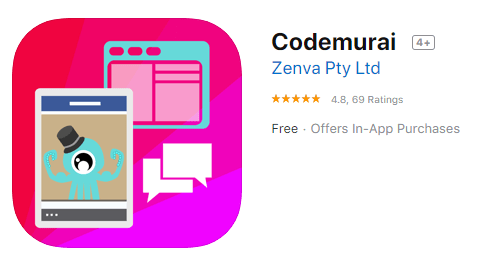 Another of the apps offered by learning several programming languages is Codemurai, launched in November 2016 for iOS and Android after rising the necessary funding through a crowdfunding campaign on Kickstarter.
Features:
• One of the peculiarities of this proposal is that the tutorials are grouped into five blocks, which facilitates the choice of languages based on what you want to learn to develop: web pages, Android applications, iOS applications, video games or coding with Python.
• It is only available in English and its operation is very similar to that of the previous apps, with the difference that the lessons and practical exercises are exchanged for virtual currencies. So sometimes you cannot continue advancing until you get the necessary credit.
• Learn to Code in HTML, CSS, JavaScript, Python, TypeScript, Angular 2, ES6, MongoDB, Node, React, Java, Android SDK, Swift, iOS SDK, Object-Oriented Programming, Computer Science, C#, Unity 3D and Phaser
Installs: 100K
Download From Play Store Download Apple App Store
7. Enki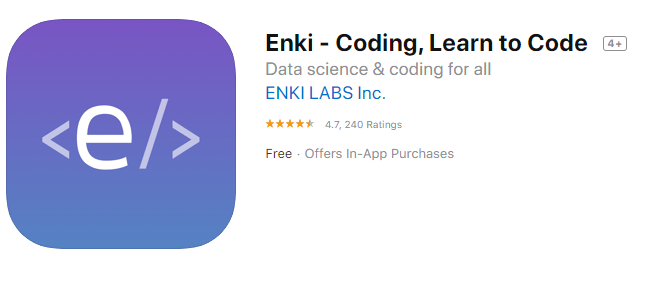 Available in English for iOS and Android, Enki not only teaches programming but also offers tutorials to acquire general knowledge about topics such as computer security, databases or computer science, among others.
Features:
• To start using it, it is necessary to choose at least two options from the following list: Web, Python, JavaScript, Linux, Git, Java, Comp. Sci, SQL, and security
• In each of the chosen topics, you must indicate the level of knowledge of it (from beginner to advance) and the frequency with which you want to practice, so that the application helps to create a habit of study through reminders that arrive on the phone in the form of notification.
• As the lessons that make up the tutorials are completed, Enki unlocks small games that serve to put into practice what has been learned in a pleasant way.
Installs: 500K
Download From Play Store Download Apple App Store
8. Grasshopper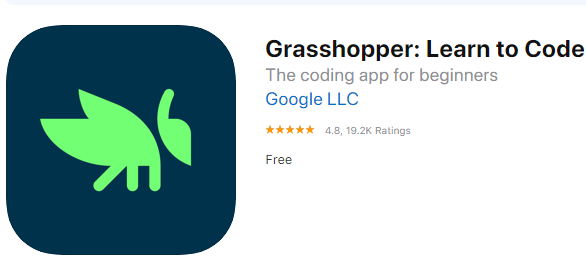 It is available on Android and iOS. Grasshopper is a Google application for anyone to learn to program from scratch. The Grasshopper Grace will guide you in your lessons to have a better understanding of programming and, if you want to continue learning, it will offer you more advanced courses. Schedule your lessons according to your schedules.
Features:
• The application is attractive and dynamic. Thus, although learning to program promises to be a complicated task, Grasshopper makes everything easier.
• You will start with a series of knowledge tests, with specific programming questions. And you can move forward and earn points as you progress.
• What you will learn will be the JavaScript language and you will do it as if you were playing. Virtually without realizing it.
Installs: 1M
Download From Play Store Download Apple App Store
9. Udemy – Online Courses

Udemy is online learning platform where you can learn anything. They have more than 2000+ topics.
Features
• Free & Paid available.
• Learn anywhere, anytime from expert. Its 5M Installs.
Download From Play Store Download Apple App Store
10. W3Schools

W3schools is a web developers app, with tutorials and references on web development languages such as HTML, CSS, JavaScript, PHP, SQL, W3.CSS, and Bootstrap, covering most aspects of web programming.
Download From Play Store Download Apple App Store
Code School-App not available
Code School is an online learning app that provides free and paid language courses to students. It currently has more than one million students worldwide. So if you are looking for such type of app which has features like code school.
Features of Code School app
• You practice what you have learned directly in your browser window and get immediate feedback.
• Accumulate points as you complete each level of the course.
• You monitor your progress and track all your achievements, badges obtained and material studied. Some of the learning paths offered include:
• HTML and CSS
• JavaScript
• Ruby
• Elixir
• PHP
• Python
• iOS
• Databases
Udacity App not available
A good application in case you want to get a little more serious in learning a programming language. The courses have been developed by professional experts from companies such as Google, Amazon, Facebook, and Github.
Features:
• Most courses are free and are based; above all, it includes tutorial videos.
• In its catalog, you can find programming introduction classes, Artificial Intelligence and Python, introduction to HTML and CSS … although some of them may require you to have a desktop PC to complete them.
• Each course is classified according to its level of complexity: Beginner, Intermediate and Expert.
Conclusion
Learning to the programming language used to mean hours and hours of expensive education. But now this is not the fact with the rise of the digital world. There are many free applications that make this task very easy as mentioned above.
You do not have to go through all the courses or programs listed above, you better choose a handful of those that you find most exciting and get down to work. So for such type of mobile help, it is best to take the help of Mobile app professional who is able to provide best apps at reasonable rates.
Hope you like Mobile Apps to Learn Code.
Happy Coding Geeks…