Augmented reality may not be as interesting as Virtual reality, but this technology has been transforming different sectors since the last few years. The AR term isn't new as businesses have been adopting it for enjoying its benefits. Augmented Reality technology changes the way humans interact with the surroundings. AR combines data from a physical world to the one that was formed with digital tools. From surgical procedures to B2C eCommerce selling, AR simplifies the lives of the users as well as B2C eCommerce business owners.
In a recent survey, 54% of the consumers stated that they prefer walking into a store to buy products as they cannot visualize products while looking for products online. With the help of AR, the user observes the reality that is superimposed with appropriate computer-generated information. It could be a street with a near route on it, your room with 3D modeled furniture or your garden packed with Disney`s characters.
May be the two most winning AR platforms have been Pokemon Go and Snapchat's facial recognition lenses. The marketing potential of these platforms is instantly recognizable. The Pokemon Go experience delivered $600 million in mobile profits in its initial 3 months, with giants like Apple and Facebook admitting the vast success of this platform and launching their own plans for augmented reality development. AR is now likely to drive $108 billion by 2021, in fact changing the path of the future market.
40% of consumers mentioned that they are willing to spend more for products if it offers an augmented reality experience. Business all over the world are looking for the latest eCommerce trends and technology for increasing the conversion rates, improving customer satisfaction, making more sales, and making huge profits. On the other hand, AR helps to attract and engage more number of users. When the consumers are engaged in your products or brand, they feel more connected. If a user is happy with the AR experience at your online store, he / she would prefer to visit the online platform again and again.
AR for Ecommerce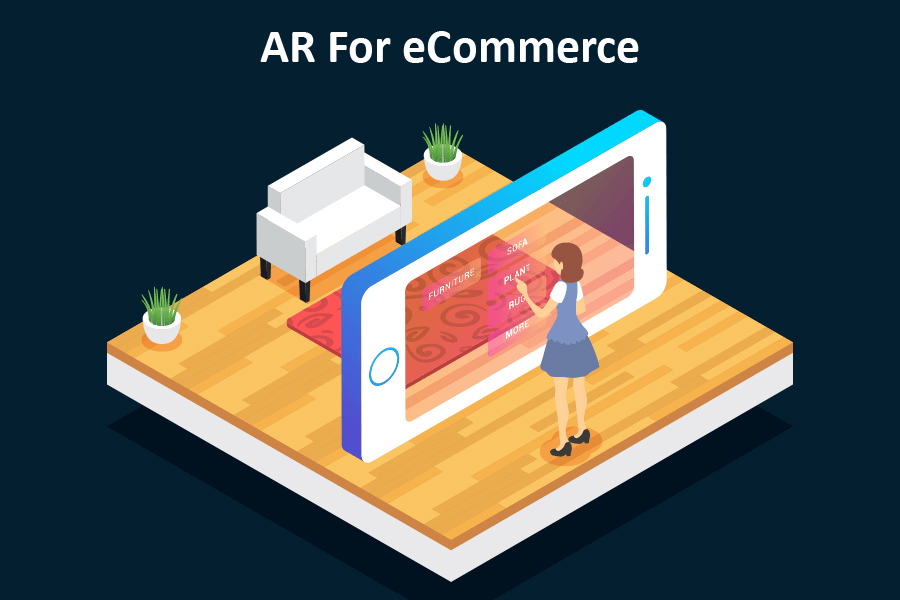 Augmented Reality (AR), firstly considered a gimmick, is now seen as an element with wonderful perspective for application in the e-commerce sector. The latest copyright application filed by Amazon for AR-related features has put it in the attention. Generally, AR assists in bringing the store to your home, quite accurately. Features like virtual changing rooms and customization assist customers to make a more informed decision while making a buy. In short, AR technology attracts and engages the users. Here are a few popular AR apps:
L'Oreal's Makeup Genius app: How convenient it would be for the consumers to try the cosmetics before buying them? With this app, you can make your Smartphone a mirror and try new looks, explore various makeup shades, and share them on social media. This app allows the users to scan a product to detect color match and test different looks before buying any product. Hundreds of millions of makeup lovers have been using the app to test makeup items and cosmetics in a unique and innovative way. The best part is that virtual makeup looks very real.
Google's Tango app: In the automobile area, BMW plans to offer a customized experience to its customers with AR. They use this tango app to allow the shoppers experience their choices – for example, how their car would look with customizations such as parked in their own garage or plush seat covers. Homeowners can map their new house, furniture, and layout to plan the placement of various things before they move into the home.
Dressing room app: Gap, a leading fashion retailer, has developed this app that allows customers to make a similar looking avatar of them. This avatar is programmed based on the data given by you such as height, weight, and measurements, and can model clothes preferred by you to demonstrate you how you'd look with your selected apparel on without in fact wearing it.
Shoppers' priority is the communication with the product before buying. This wonderful technology enables customers to see the difficulty of the product through animations. The future AR in the retail stores will regard as superior augmented reality technologies such as Augment's SDK, which enables vendors to handle AR through their brand platforms.
Augment's SDK is specially designed to be incorporated into the retailer's website or app flawlessly. It enables the retailers to influence the product image. This is needed for giving the product's value to the purchase while increasing conversions simultaneously. Augmented reality is incredible for both retailers and customers who want the best product online.
Here are some considerations to build a user-friendly AR app:
Create an Engaging Buying Experience: It may be a big mistake to treat AR technology as a novelty or a toy. This platform can be used to deliver incredible value to the online shoppers. According to one of the retail perceptions, around 61% of customers prefer to buy from stores that offer augmented reality, over the ones that don't. While shopping online, a customer has to visualize and understand what an item would feel like in their hands or look like at their home. AR technology assists to beat this online buyer's challenge by bringing a physical existence to online shopping.
Modify or Customize Selections: According to retail perception, around 77% of customers want to use AR app to see differences in a product such as a change in style or color. Augmented reality makes it easy for shoppers to discover their choices and make customized modifications while online shopping. With sellers who provide augmented reality, customers can change the color or size of furniture they're looking to purchase to observe how it looks at their home first. Nobody would like to purchase furniture that occupies most of the space in the living room. If the eCommerce furniture shops use AR and help the customers visualize their homes with different furniture, it will help buyers make wiser decisions when purchasing online.
Visualize or Understand Products and Features: Both in-store customers and online shoppers wish that they could communicate with a product to get a feel of how it works before buying it. AR is enabling customers to trigger animations to show how complicated products like electronics or appliances function and work. This technology assists in addressing the issues that helps users discover the features of a product. Augmented reality is generating the visualization of a product in a new element that will boost businesses' success over time.
Eliminate doubts and reduce the return rate: AR provides 3D model of products to the consumers and so, they can visualize the items before buying. There will be no guesswork when customers buy products with Augmented reality. Online shoppers can make better decisions while shopping for the products online. eCommerce store owners can improve the purchase rate and reduce the exchange or return rate with Augmented Reality technology.
AR commerce: AR-based apps help to boost ecommerce Sales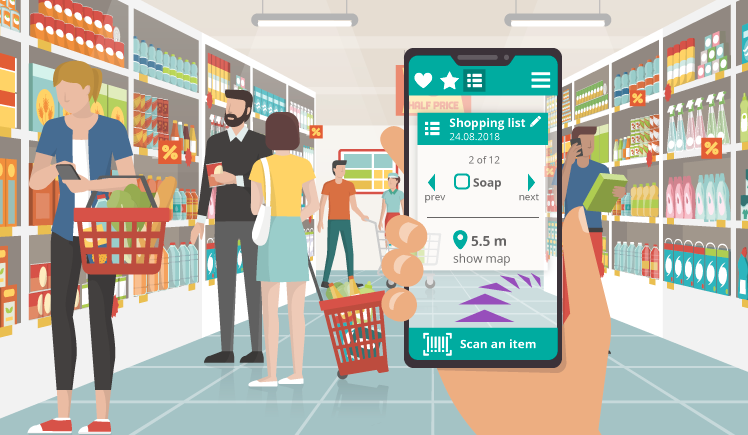 Augmented Reality has been transforming the dynamic eCommerce market and helps it grow tremendously. This technology adds a new feel to customer experience as it transforms the monotonous browsing behavior to an engaging and interesting shopping experience.
Online shopping goes beyond the browsing of products via images and videos as AR brings the products to life with a 3D immersive environment. It changes the way users make the purchasing decisions. Ecommerce brands have been integrating AR feature in their website or app to engage users and make more sales each month.
In a Nutshell
Since we have seen how big brands are leveraging the benefits of augmented reality app, it is advisable for every E-commerce to integrate AR applications in their business. Integrating augmented reality for ecommerce will give you a unique yet profiting start. Modern customers do an online shopping exploration before buying any product. Companies should also be innovative about their products and the way they're presented to the online world. There are so many retail stores existing and competing for the uniqueness. A little touch of innovation with AR can be a superior way of pleasing your customers while making big profits.
AR delivers a personal touch and immersive shopping experience to the online shoppers. It ensures enhanced customer satisfaction and experience that ultimately results in increasing the sales. eCommerce business owners can outpace their competition by delivering engaging experiences to the users.
There's no doubt that the integration of augmented reality with e-commerce has a brilliant future. Customers get to interact with the products before buying. Retailers are profiting from this technology and are meeting customer requirements. We, at i-Verve INC offer a range of augmented reality application development to help you achieve your business goals and maximize your profits. Pioneers from the world of eCommerce have realized the tremendous potential of the technology and have started building AR based solutions to make their business reach new heights. If you haven't started working on AR apps till now, you could be losing a lot. Think about it and enjoy exponential returns by investing in this futuristic technology.