Managing your social media profiles as a brand can get quite tricky, especially as your business advances and expands. Keeping track of everything, planning and even posting can be a nightmare – it's tedious, takes a lot of time and it's just not productive.
That's why people who have experience with these things like to help others by creating useful templates that make everyone's life easier.
Include these great templates in your workflow:
1. Social media strategy template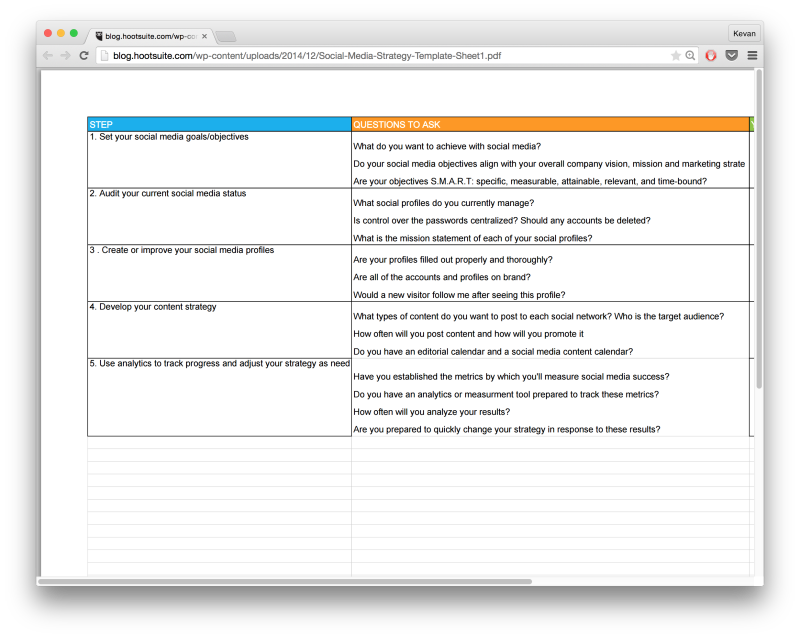 A good social media strategy is where you begin. This template can help you determine your goals and how those goals intertwine with your overall content strategy, influencer marketing and so on. You can build one yourself but you can also download a free one from Hootsuite which covers:
Your goals
Your current social media status
Improvement of your social media profiles
Your content strategy
2. Editorial calendar template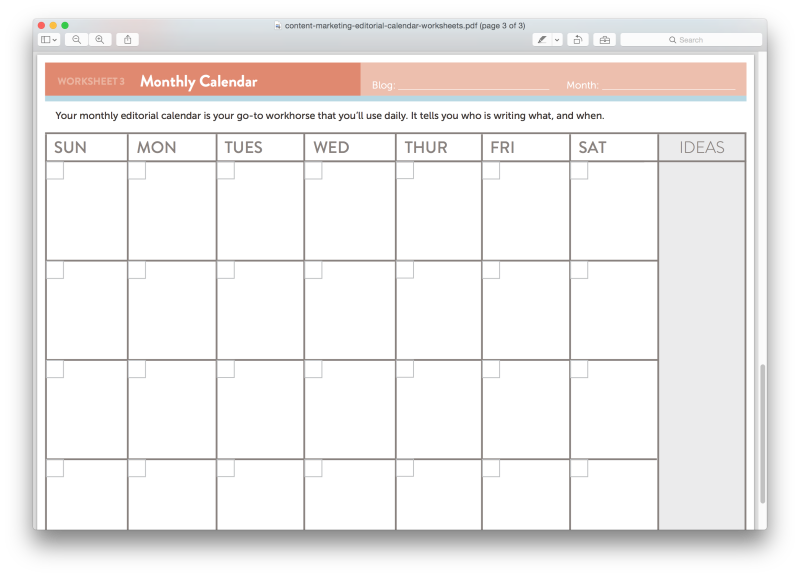 Editorial calendar gives you a glance at the year ahead from a better, more objective perspective. You can see how your content works with different holidays, events, campaigns and so on. This can help you coordinate every element of your content and create a harmonious flow. It can also make your life easier when it comes to making decisions on what to post and when to post it.
This is another template you could build yourself but there is a free and premade option available on CoSchedule. All you have to do is download it, input major holidays, events and such and then map out your year in social media content.
3. Social media audit template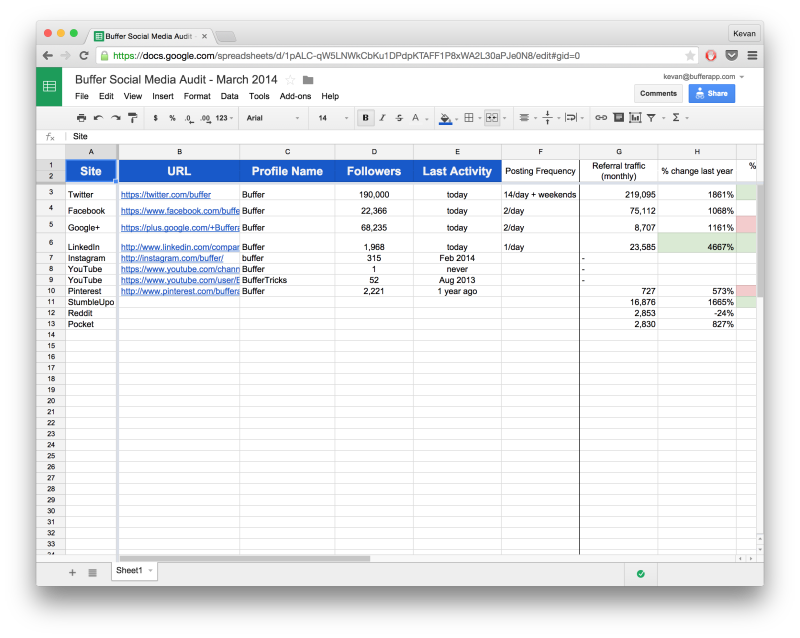 You can use this template to check on your social media accounts and see how things are changing – hopefully for the better – which metrics are growing, which need improvement and so on. It's also great for auditing your social media profiles for consistency with your branding.
What you have to do is enter all of your social media profiles into the spreadsheet and duplicate the spreadsheet every month to get a fresh template to work with.
4. Social media content template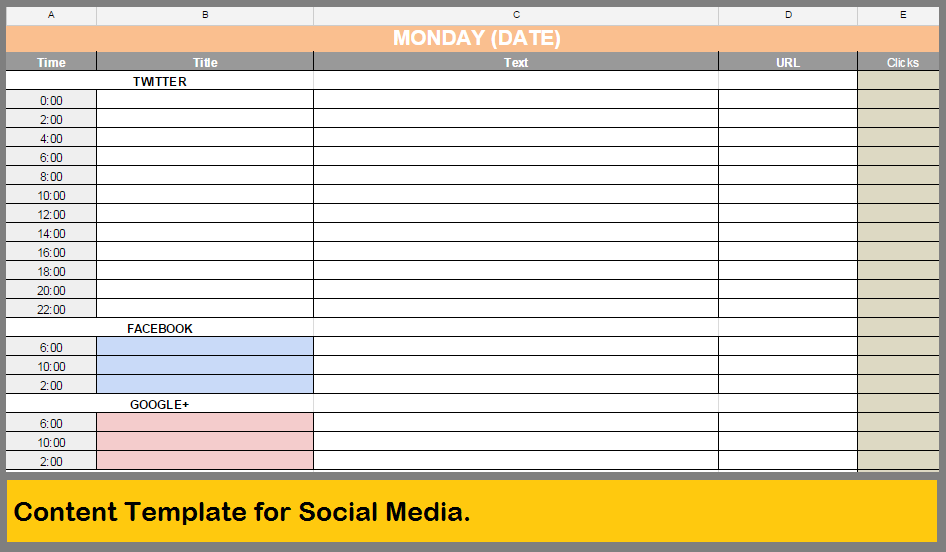 This is a very useful tool which allows you to plan content for your different social media profiles. It contains elements like: title of the post, author, links to sources and briefs, deadline and profiles where it will be published. You can use a fresh one every month and organize your content publishing completely. Download or just preview the template and see how well it works for you and your social media strategy.
5. Tweet headline templates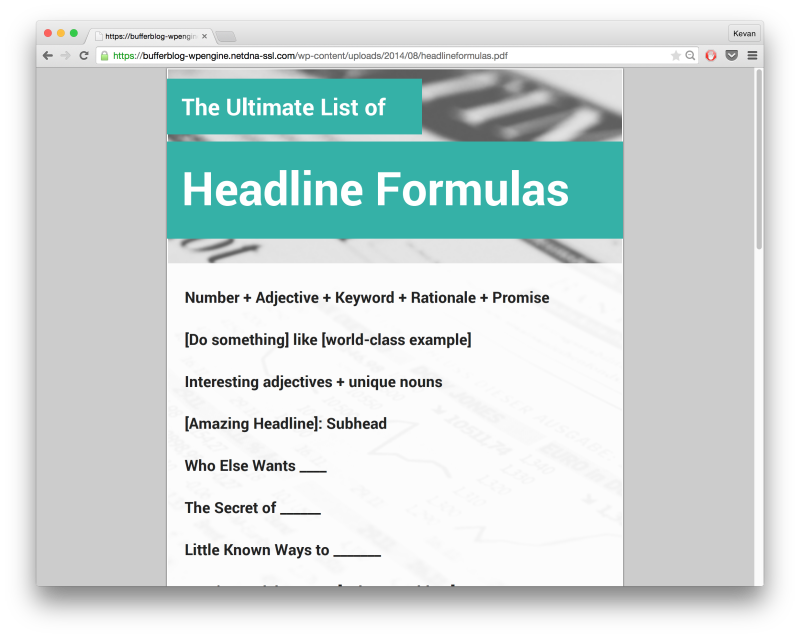 Headlines really matter on Twitter and that's why you could use a template that will help you draw attention from your followers. However, one headline template won`t work forever and that's why this free download from Buffer can help you immensely.
"When we were just starting out with our Twitter profile, we didn`t know much about the headlines and how important they are. The headline templates we found on Buffer helped us build a fantastic Twitter following and we are still using them to date" says Tiffany Marble, a social media specialist from Academized and Australian Help.
6. Twitter chat planning template
This template is perfect for anyone looking to start a Twitter chat. This template was created by Cathy McPhillips but you can also create your own if you want that. However, the one from her site works perfectly for most brands and you make great use of her fill-in-the-blanks fields.
7. Copywriting templates
Copywriting may not seem so pivotal to social media posts but you can use it for writing short and compelling posts that contain some value or solve a problem for the readers.
Over the years, there have been quite a few of these developed:
The AIDA method: Attention – Interest – Desire – Action
The Before – After – Bridge
The 4 Us: Useful – Urgent – Unique – Ultra-specific
Problem – Agitate – Solve
You can find as much as 27 Copywriting templates on Buffer.
8. Bulk upload template
When you are running your own business, it can be hard to manage posting on Facebook, Twitter and other social media platforms post by post. That's why Hootsuite allows you to upload up to 350 social media posts across all of your social media profiles which seriously saves you time.
To do this, you have to save a csv file of each message you want to post online and fill out the following format:
Enter the date and time. Time must be at least 10 minutes in the future and must end with number 5 or 0. For instance 15:55 or 6:30. Also, pay attention to the date format.
Enter your message. Be aware of the character amount limitations. For instance, Tweet can be 140 characters with the URL which could reserve at most 23 of those.
Add the URL. This is an optional step but you would usually want to add a link.
It's best to use this template in a plain text editor rather than Excel. Use commas to separate parts where the columns should be.
9. Social profile image sizes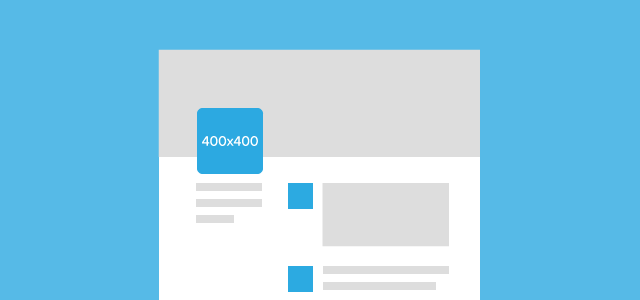 Image sizes matter when it comes to social media. They enhance your profiles and add to the overall consumability of your content. However, people often confuse image sizes from platform to platform and that's why having a good image size template is a great idea. You can try one from the SproutSocial which contains image sizes for almost all social media platforms.
10. Visual social media templates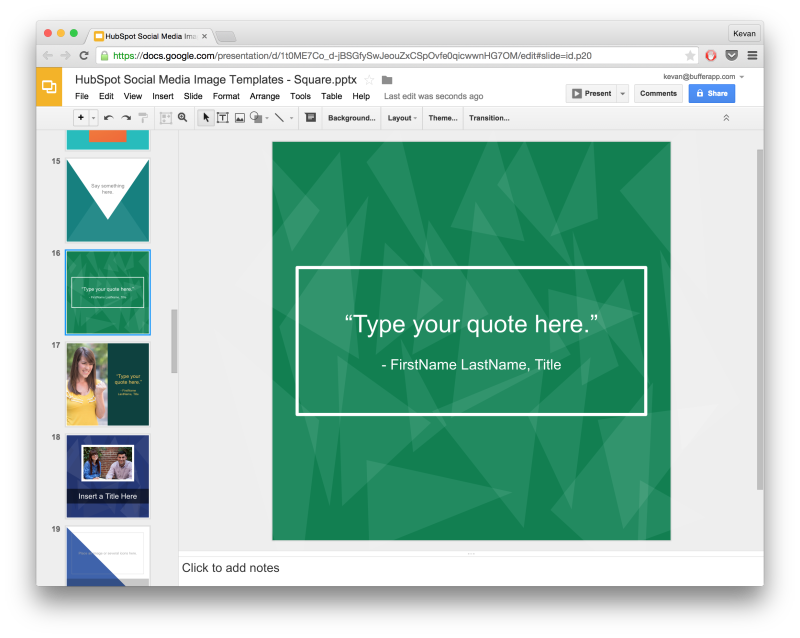 Visual cues are very important in any social media strategy. Each post needs to have a visual element or it could get missed in the forest of social media posts. However, it takes a lot of time to create interesting visuals, especially if you are not skilled at doing that. Fortunately, Hubspot designed 30 rectangular and 30 square templates of different styles, colors and so on for you to use.
All you have to do is download this template – PowerPoint Presentations – choose the template you like and want to edit, add your text, save and share.
11. Influencer marketing template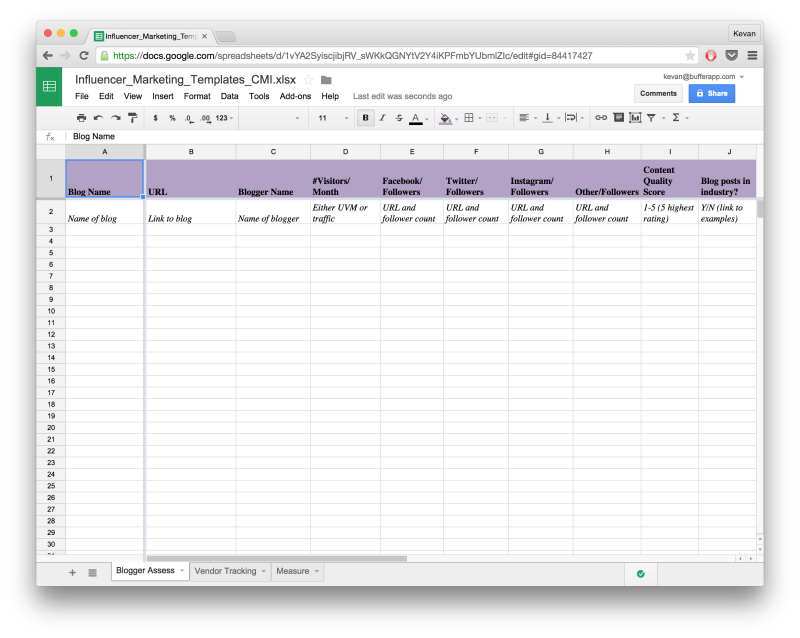 An influencer marketing template can be an extremely useful tool in any marketing strategy. Track potential influencers by placing their information in a spreadsheet. Furthermore, you can include influencers who have reached out to you or connected with your brand in any meaningful way and use that list for later as a part of your future outreach strategy.
You can make this spreadsheet yourself in Google Sheets or similar programs or download the one from the Content Marketing Institute as that one already contains all of the necessary fields as well as a part where you can track the number of followers of each specific influencer.
The number of followers of each influencer can help you in combining your influencer strategies with other marketing strategies in the future.
12. Social listening template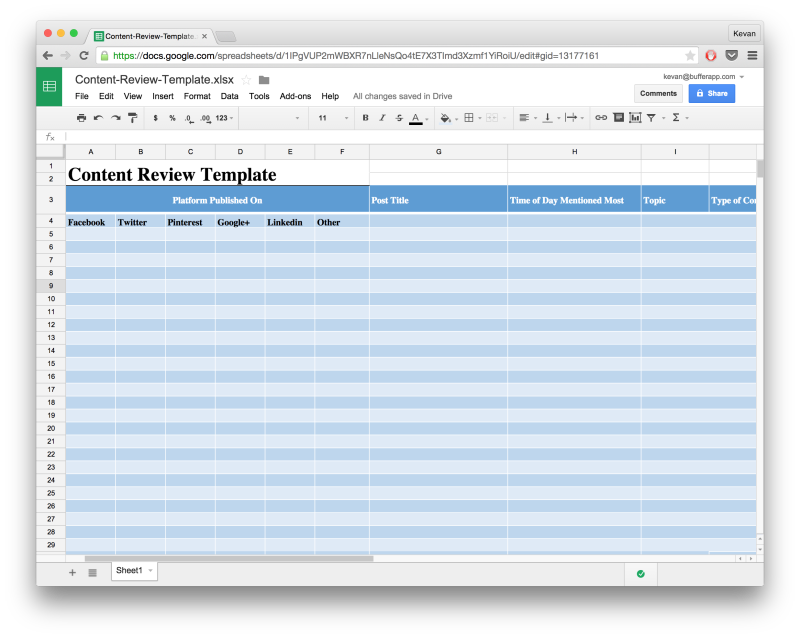 This template was built by James Prideaux and while you can create one for yourself, he is offering it for free on his site. The Social Listening Template serves a simple yet useful purpose – to track your social media engagement.
Once you grab it, you should enter various information like which platform the engagement is happening on, the day and time and general topic of your post as well as the potential reach from that engagement.
13. Social network overview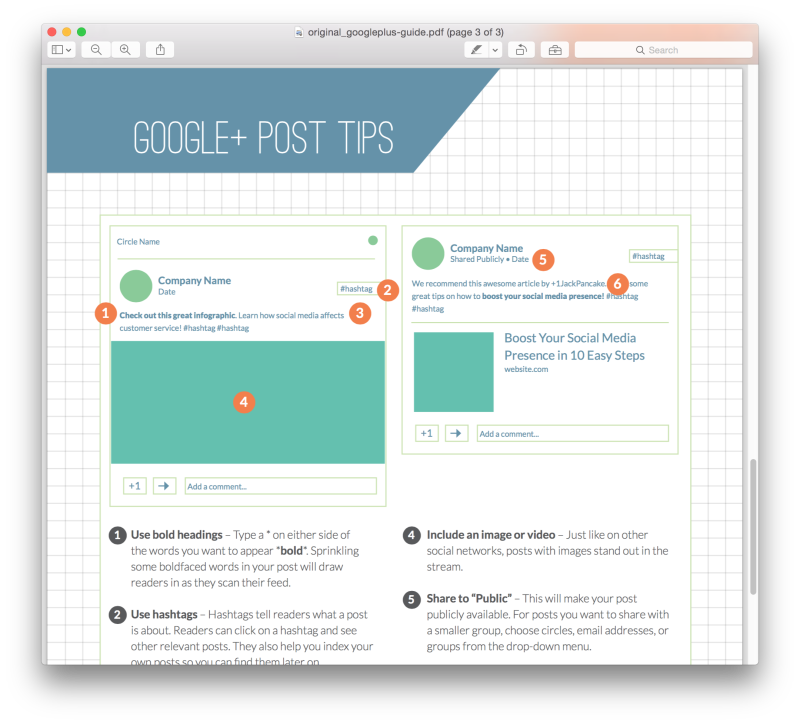 If you need tips and strategies for different social media platforms, this template could definitely bring you many benefits. Check out the ones from Short Stack. These provide a lot of value and allow you to download a template for each social media profile separately based on what you need from your social media strategy. For instance, you can only download the Facebook one if that's the platform you are using.
14. Social media report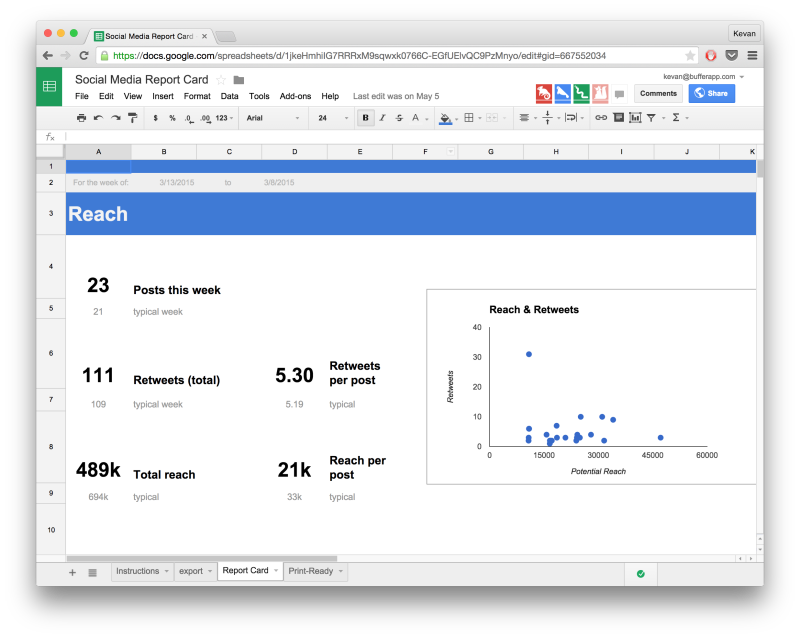 This social media report template is extremely easy to use yet powerful in what it can do. As a start, all you have to do is export your data from Buffer or add stats manually and the spreadsheet will do the rest. You can see your weekly stats or how they compare to your monthly goals.
"The social media report template can be a really useful thing for any new brand or a seasoned professional. Because it's so super easy to use, we tend to recommend it to anyone struggling with keeping all their metrics in check", – Says Sly Mendez, a social media manager from Paper Fellows and State of writing.
15. Template for social media control
You can use this template to assess your position on social media and move it forward in the future. It contains six elements. For one, you should create a list of all your social media profiles. After that, you should try to find all other social media profiles that are trying to represent you or your brand. In the third section you should come up with a goal for each profile and in the fourth you should make sure that each account represents your brand. In the fifth, you should centralize password ownership and the sixth helps you organize a protocol which can help you with future profile builds.
These templates were built by real professionals who know what they are doing. While including all of these templates in your workflow can be a bit overwhelming – whether you have a team to back you or not – you can always implement them incrementally. For instance, try using the one for image sizes and the one for post templates on different social profiles but then slowly include other, more complex templates like the ones that deal with metrics and similar topics. Hopefully, you`ll find some useful materials on this list.