Like everything else, the world of marketing is always studded with new concepts and ideologies. With the passage of time, new trends, tactics, and strategies come into play which change the game for everyone. This is why, the top international brands always have dedicated marketing research professionals who continue to devise new strategies to make the brand look apart from its competitors.
The options to market your brand are endless. As the process of change always continues, the new entrants like digital marketing channels have made a headway. Marketing through digital channels has now become the name of the game internationally. On one hand, the ever-changing marketing demographics have bestowed the marketing professionals with a chance to play a bigger role but on the other it sometimes gets overwhelming for them.
If digital marketing is not a part of your business marketing strategy, you should include it as soon as possible. Regardless of the type of business you run, you have to reach out to your audiences and let them know about your products and services. Since a major part of the audience spends a lot of time online, it demands you to adopt online marketing strategies to make them notice your brand.
You may implement the following marketing strategies to make your brand stand out from the crowd.
1. Content Marketing
Content development is the backbone of the digital marketing. When you think about it, everything you see in the virtual world is content, of course, in different forms.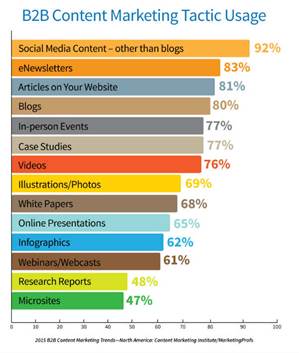 Source: contentmarketinginstitute.com
The graph shows the popularity of different tactics used in content marketing
Google defines content marketing as:
A type of marketing that involves the creation and sharing of online material (such as videos, blogs, and social media posts) that does not explicitly promote a brand but is intended to stimulate interest in its products or services.
Let us talk about some content marketing tactics.
• Web Design Branding: Your website is the first medium to establish that instant connection with your audiences and let them know about your brand, products, and services. Your web page holds the key because the first impression is the last impression. If your users or visitors like to stay on your web portal, it will eventually reflect on your numbers. However, if the web design is not clear, attractive, and user-friendly, you will lose customers despite having an outclass product. If you do not have the skills of web design branding, you should hire professional services to handle the job.
• Blogging: Having a company's blog or newsletter can be very fruitful in marketing your brand. The following example shows how Ahref's blog speaks about its services and convinces visitors into buying the software.
• Backlinks: You can add backlinks to any form of content, e.g. video, blog post, infographic, SlideShare, etc. It helps in driving quality referral traffic to your website which improves its ranking.
• Guest Posting: Posting about your brand on another relevant website is another way of spreading the word about your brand and products. This activity helps in strengthening relationships in the industry and gives an excellent brand exposure while contributing to excellent organic traffic.
• Video Marketing: Video marketing has recently made a huge splash in the oceans of digital marketing. It has emerged as the most creative and powerful tool to market your brand. For example, Canadian Tire's video wheels has been viral since 2016.
• Webinars: Webinars are another great way of holding online mini-courses particularly if your business involves digital products.
• Content Syndication: When content from your website is republished, it generates referral traffic and this is known as content syndication.
• Podcasts: You can market your brand through audio content as well. It is an excellent form of brand building that helps in growing your audience. It also assists in building relevant relationships in the industry.
2. Email Marketing
If used in the correct manner, email marketing is yet another powerful tool in the world of digital marketing. It is all about reaching out to your potential clients or customers through creative and innovative use of words, images, and infographics to influence their buying decisions. Some tactics for email marketing are:
• Lead Magnets: You need a database of email addresses of your potential customers to pitch them. You do them with lead magnets. It is like giving something valuable in return of leads.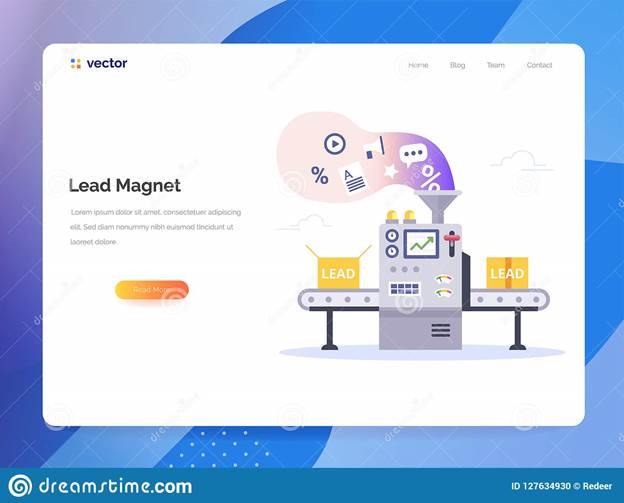 Source: dreamstime.com
This example explains the concept of lead magnets
• Segment the list: You can categorize your email addresses for two purposes, i.e. to generate sales or to create brand awareness.
• Automation: You can send pre-designed email messages to your target customers once your database has been segmented. There are several software that can do the job for you in an efficient manner.
3. Search Engine Optimization
The process of maximizing the number of visitors on your web portal, which eventually gives rise to its search engine ratings is known as search engine optimization. It might sound like a daunting task but its basics are quite simple to understand. Click here to read more about it.
The following screenshot speaks about the usefulness of SEO marketing.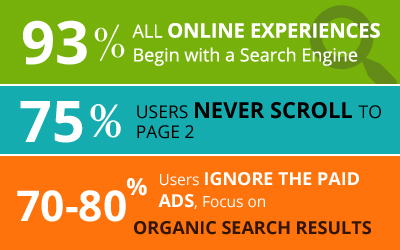 Source: localseochecklist.org
Some concepts used in the SEO are:
• Keyword/Topical Search: You need to be aware of what people are trying to search for before optimizing your content. Keyword and topical research help you in finding out those queries and topics.
• On-Page SEO: You want the content and HTML tags on your website to have high search rankings so you may optimize them accordingly. This is called on-page SEO.
• Off-Page SEO: The process of optimizing your webpage according to the search engine standards is called the off-page SEO.
• Technical SEO: Technical SEO refers to non-content related techniques that help search engine to crawl and index your webpage. It needs a technical SEO audit before proceeding.
4. Social Media Marketing
The current age is all about social media. A massive number of global population spends a major part of their day on different social media platforms. Social media works on the rule of spreading news from people to people and this is by far the most effective way of attracting potential customers.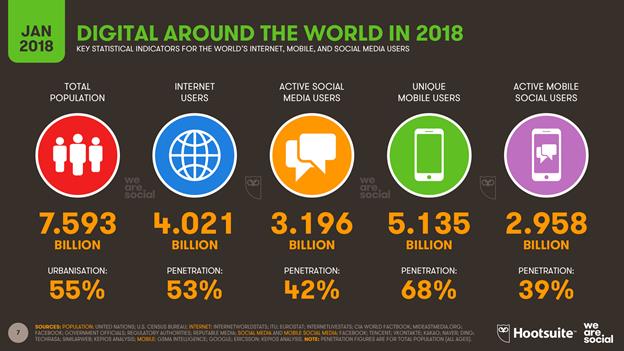 Source: smartinsights.com
The above image tells us about how social media platforms have increased their penetration among the global users. It also gives us an idea of the social media popularity and how influential it can be for brand marketing.
Some tips for social media marketing are:
• Choose the Right Channel: You need to research and know which social media channel can be the most beneficial in attracting potential consumers to your brand.
• Social Presence: Making your presence at social media platforms is immensely contributing to creating your brand awareness. In this way, you can save your brand from negative press and create a positive aura about your business. Social presence also helps in building direct relationship with your consumers. You can better know and serve your consumer's pain points through interactions at different social media platforms.
5. Paid Advertising
Sometimes online marketing calls for payment to get your brand marketed. Paid advertising refers to paying a third-party for hosting your advertisement at an ad-space they own.
Some well-known paid-advertising platforms are:
• Google Adwords: Google Adwords is also known as pay-per-click. You pay every time a user clicks at your advertisement shown at Google search or display network.
• YouTube Advertising: YouTube has more than a billion users with an average of a billion hours watched daily. This establishes the power of advertising through YouTube.
• Facebook Advertising: We all know how impactful Facebook is in today's world. From the U.S. presidential elections to highlighting major global issues, Facebook has always made its presence felt.
6. Influencer Marketing
Influencer marketing focuses on attracting potential customers through influencers. It focuses mainly on the influencers and relies on their skills and online presence to market your brand. For example, Dunkin' Donuts and their agency, Trilia, wanted to create an awareness campaign on the National Donut Day. They joined hands with Collab, to create a national Snapchat campaign, featuring visually interesting content.
The influencers used their content to urge their supporters to visit the Dunkin' Donut Stores and make the most of the special offer. Also, Dunkin' Donuts supplied the influencers with Snapchat Geo-filters which people could use in-store.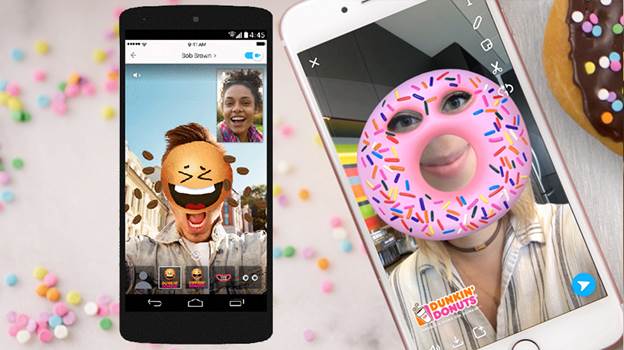 Source: adweek.com
This image shows a glimpse of the interesting content that was used in the campaign that won them 10 times more followers on Snapchat
Since online strategies are constantly changing and evolving all the time, there is no end to learning in this world. Keep yourself abreast with the latest updates and tutorials in the world of digital marketing which will introduce you to new ways of influencing and attracting consumers to your brand.