YouTube is the most popular video-sharing platform in the world. It's considered the second search engine platform after Google. According to a recent study, YouTube has 2.4 billion active users worldwide.
In the smart world, everyone was spending a lot of time on social media. Many marketers also use YouTube to increase their brand presence and improve marketing strategy. 79 % of Internet users have their own YouTube account & billion hours of video watched every day.
In this article, we will discuss how to download the YouTube video on our PC, smartphone, or iPhone. I assure you that the topic will be interesting and help you to download your favorite videos.
Let's go!
Is It Easy to Download YouTube videos?
Yes, downloading videos from YouTube is the easiest process. Also, there are so many reasons to save the videos due to the poor internet connection, scheduling trips with planes and trains. At this moment, we never get an internet connection to watch videos or movies. Hence, people can download their favorite videos.
One more advantage of downloading YouTube videos is if you lose the internet data on a particular day, you can watch the saving videos to prevent them from boring. First of all, you can do it for free.
YouTube provides some free tools for saving the video on both desktop and mobile, and third-party YouTube downloaders are available free of cost. Read the article completely, and we will explain the step-by-step process and get ideas.
Also, YouTube offers the greatest feature to save the music from videos and stripe out the audio into podcasts that are YouTube to MP3 converters. Just apply the video link and get the music without video.
Is it legal to download YouTube videos?
Installing third-party software on your mobile or laptops for downloading YouTube videos. It's against YouTube's terms of service, which states that you can download the streaming videos directly from its servers. YouTube has no right to penalize the viewers for downloading videos. But, saving copyrighted videos without the owner's permission is a criminal act unless you get permission from the copyright holders.
YouTube offers particular ways to download videos through its own apps and web services. You can download the YouTube videos to your smartphone, iPhone and Mac.
How To Download YouTube Videos To PC (Windows/MAC)?
It's a very simple process to save a video on your PCs. Here we can discuss five techniques to download your videos.
Download from YouTube by typing SS
Yes, you can download YouTube videos by typing SS before YouTube on the mobile, laptop, or any PC. You can download all formats of videos like mp4, mp3, MPEG. Sometimes restricted videos won't be downloaded.
Steps to download from YouTube using SS Prefix
Go to YouTube on your browser.
Click on the video and play and pause it.
Go to the video URL Type "ss" before the YouTube.com and click enter. Remove https://www before type

You will be directed to another popular website (savefrom.net) where you can download the video in the desired format. It will show all information about videos and file format, Click download and it will automatically start downloading videos on your PC.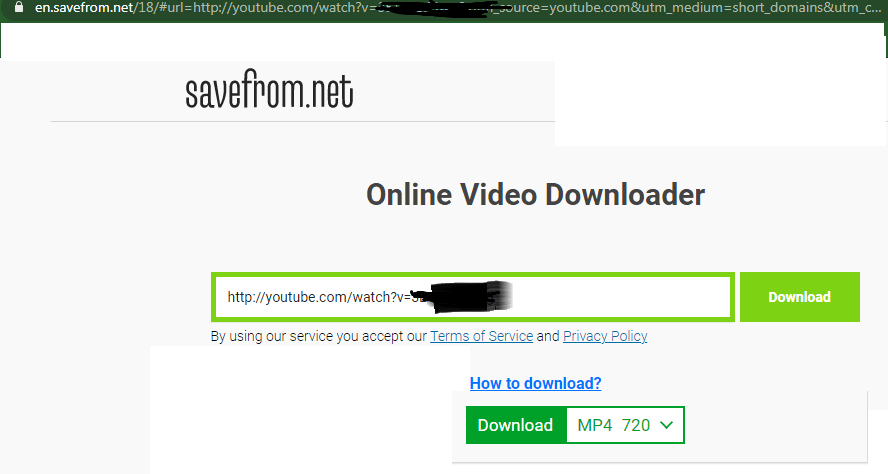 Get 4K Video Downloader
You can download the videos to your PCs by installing the 4K video downloader. It's effortless to use and highly compactable. It has two types of versions – one is free & the second is paid.
The free version is awesome that allows the user to download the videos free of cost. So, using this version is more comfortable and perfectly suits you. Moreover, the paid version gives some extra benefits such as no ads, unlimited number of downloads, priority support, and more.
By using this software, you can download the total playlist and 360-degree format.
How to use it?
● Download and install the 4K video downloading software
● Open -> Paste the video URL in this application
● Choose the quality(what you want) and click to download
WinX YouTube Video Downloader
WinX YouTube downloader is an excellent software that helps to download unlimited videos directly from YouTube. It is also one of the safest downloading tools for video downloads. It operates on both Windows and Mac.
One of the clear, powerful, and well-designed tools. It has two versions: one is free, and another one is paid. You can use both versions, but the free version allows you to download a limited number of videos. If you want to download more videos, you can directly approach the paid versions.
The major advantage of using this tool is that you can download the video from multimedia sites such as Facebook, DailyMotion, etc. Only one disadvantage of using this application, it doesn't allow 360-degree video support.
How to use it?
● Download the updated version and install them.
● Tap the add URL on the main menu
● Copy the video link (what you want to download) and then paste the URL.
● Choose the video quality and tap to download option.
How To Download YouTube Videos on Android?
YouTube is an official android app designed by Google for slow-performing smartphones. Nevertheless, the internet audience is searching to download the video free and legally for their own benefit.
Generally, the YouTube app shows the download option on the selected video and pushes you to subscribe to YouTube Premium. By using YouTube Go, you can easily download the videos for free without any restrictions. Every user uses this application to save videos with ease.
The small disadvantage of using this app is you can download limited videos from other services like Facebook, Instagram, and Twitter.
How to use it?
It directly saves on your SD card or your phone's internal memory by downloading videos from this app.
● Download the YouTube Go from the play store.
● Open the YouTube Go -> Select the particular video what did you want to download
● Click the video -> Choose the video quality -> Hit to download
After completing the process, you can see the status on the Home screen.
Note: YouTube Go will download videos as .yt formats, and these videos will only be playable in YouTube apps.
TubeMate:
TubeMate is one of the best and free downloaders application. It's specially made for YouTube. It is the easiest software to use and save your video process quickly. It offers all users to download the video from their favorite site and also has an inbuilt browser.
TubeMate also allows you to select the file format and quality of the video before you download it. The downloaded videos are saved in your internal memory automatically.
This app is a fantastic video downloader for smartphones, but you have to face a lot of advertisements. If you want to download a video in MP3 format, you can download it. But, it needs extra requirements such as an MP3 converter app.
How to Download YouTube videos using TubeMate?
● Open the application and watch the video-sharing website
● Pick your videos from the search results -> TubeMate will ask you to select the video quality
● Selecting the video resolution -> Tap to download button.
How To Download YouTube Videos on iPhone?
You can directly download the videos to your iPhone is a little bit of complication. The advantage of saving videos which help to watch them at any time, anywhere, and even when you're offline. But, it's possible now.
There are several methods to download the videos. The first one is YouTube Premium, and the second one is Third-Party apps. Let's discuss briefly.
Method 1: Subscribe to YouTube Premium
If you have a YouTube Premium subscription, you can download quality videos and watch them whether you're offline and without third-party software. The main advantage of using the YouTube premium is you can use YouTube gaming apps and YouTube music. Remember that you can watch the downloaded videos only by using the app and also you can't share the video folder from one device to another device or watch it with a unique player.
To Begin watching a video, click the 'Download' button under the video play and select a quality setting. Once the YouTube video has been downloaded successfully, you can find it in your account tab or Library.
You should be signed in to your YouTube account to download videos, and you can't respond to videos such as likes, comments, and more when watching them offline.
Method 2: Use a Third-Party Software
The iPhone allows you to install third-party software to download YouTube videos. Now, we can see the free apps to save your videos on your iPhone.
Video Downloader Free:
If you want to download an accurate video with an MP4 player, you should download the app from the App Store that's Video Downloader Free. This app is perfectly suitable for all iOS users. You can download the videos from various websites like Dailymotion, Vimeo, and YouTube.
How to use it?
● Download the app from the play store
● Click your favorite videos and Tap download
Features:
● Its supports all formats such as mp3, mp4, doc, xlx, pdf, and so
● Auto-detect videos and easily download
● Downloaded files in a password-protected folder
● Support HD videos
● Support SD Cards
DownloadMate:
This app allows you to download YouTube videos to the iPhone or iPad. It is one of the most popular applications on the iPhone. You can play, edit, and view the downloaded videos directly from your iPad or iPhone.
Features:
● It has a user-friendly graphical user interface
● You can convert the downloaded videos to zip file format
● DownloadMate also shows that total number of active downloads
Additional Tips:
When the user downloads your video on their gadgets, your video should be quality and attract the audience. Concentrating on YouTube Promotion to your videos helps the viewers to download the video quickly. Also, you can view the total number of downloads in your YouTube analytics. So, concentrate on your video quality and engagement.